Removing Branches and Trees That Maybe Dangerous
Trees play an important role in our environment and it is only through proper care that we can continue to enjoy the benefits that urban trees provide. Poor care can only result in the eventual loss of some of our trees that we love to see everyday. Trees give shade and shelter not only to us but to a host of our natural wildlife and for this reason alone we should strive to preserve and maintain the trees that we have.
There can be a time when a branch or even the whole tree needs to be removed because it is become a hazard to the general public or a property nearby. There can be obvious signs that this needs to be done e.g., the tree is dead, and the branches are falling down, but sometimes this is no so clear signals and a tree survey can be done to see if there is a potential risk from the tree.
When It Is Obvious The Tree Could Be Dangerous
The tree is leaning over
Splitting and cracks in the tree trunks
The roots and branches have mushrooms, conks, and brackets growing on them
Decay already showing on branches that are bigger than 2 inches
When a branch is larger than the others
Call us at 07952 046494 for a free consultation now!
---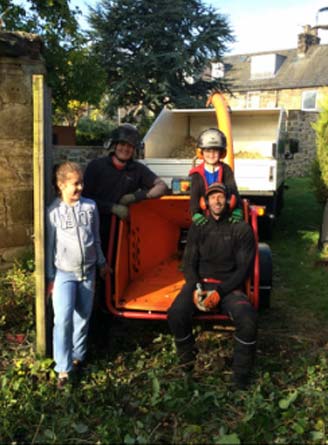 Professional Tree Surgeons with safety in mind!
Tree Survey and Risk Assessment Report
In order to maintain a safe and healthy tree stock, ensuring that risk is kept to a minimum when trees are in close proximity to people and property. The Assessment will provide details of all the trees identified; this includes their dimensions and health whilst also making recommendations on any tree management proposals, both short and long-term.
Visual Tree Assessments
Tree Hazard Evaluations
Short and Long-Term Management Plans
Aerial Inspections
Emergency Tree Service
If there is an emergency and you need a tree surgeon as soon as possible then Special Brand Scotland will be there for you in your time of need. We provide an emergency call out service which can come to the rescue and address incidents including storm damaged and dangerous trees. In urgent need of our services? Call us now on 07952 046494 and we can sort the problem safely and securely.