Improve the Overall Health and Structure of the Tree
Tree pruning incorporates a combination of tree maintenance techniques, which could include Deadwooding, Crown/Canopy Thinning and Lifting. No one operation is usually sufficient to maintain a tree properly and look after its overall health and well-being.
When embarking on some Tree Pruning each individual tree needs to have its shape, size, condition and species taken into consideration and a careful plan evaluated before any work is carried out on the tree. Then once the appropriate work has been completed, the tree in question should be left in an acceptable, well-balanced and safe condition for a healthy long life.
Removing branches would be done in a coordinated and safe manner using the ABC method of cutting to reduce the chances of tearing. Ropes will be used for larger limbs that need to come off and will be lowered slowly and safely down to the ground to avoid damage to the tree and the surrounding area.
The diseased, damaged and dead branches will be cut back right down to the branch collar and if there are any crossed branches that could be rubbing on each other then they can either be removed or just pruned back to avoid any further contact, but overall keeping the shape of the tree intact.
---
Ann Street, Edinburgh!
We recently shaped up this lovely bay tree that is situated in the front entrance of a lovely home in the sought after Ann Street in Edinburgh with its exquisite Georgian Architecture. This appealing street in Stockbridge was supposedly a favourite with the late Queen Mother and the Royal Chauffeurs on occasion would be asked to take a detour on their way to Holyrood Palace to drive down this street as it is widely known as one of the city's most desirable addresses and one of the 6 most exclusive streets to live in the United Kingdom, can`t be bad if you can afford it that is.
The tree after some time as you could imagine because of its location would start to interfere with the access to the property. So we were called in to give the tree a wee makeover and prune the branches and foliage back but at the same time keeping the overall shape of the tree to be aesthetically pleasing as it can and therefore improving accessibility to the house, another exciting time in the day to day life of a Tree Surgeon.
For more on our latest news
Testimonials From a Happy Client
"Stevie and Cameron from Special Branch Scotland done a fantastic job of removing some large limbs and pruning two very large horse chestnut trees in our garden. The job was complicated by the trees being protected and in a conservation area but Stevie made numerous visits to look at the trees and offered lots of free advice before we even agreed for them to do the work. Some large and very heavy limbs were situated above our house so required expert removal and careful lowering to the ground. These guys are very knowledgeable, professional and friendly and I would highly recommend them to anyone requiring tree work."

Michael S, Edinburgh
Tree Maintenance, Pruning and Reduction Services
Trees as they age and grow can often get out of control if it is not maintained properly and then can be a hazard or even dangerous. They can often grow too large and can block out light due to their height or become too imposing in their size.
We at Special Branch Scotland can offer professional maintenance, pruning and tree crown reduction services which is done by experienced, qualified and well trained tree surgeons.
The benefits/reasons for Tree Pruning:
Improve the overall appearance of the tree
Enhance the structure of the tree
For safety reasons i.e. to remove branches that may pose a threat to public safety
More light is let in and opens up a better view can be seen through the tree
Fruit Trees; Improve the size and quantity of the crop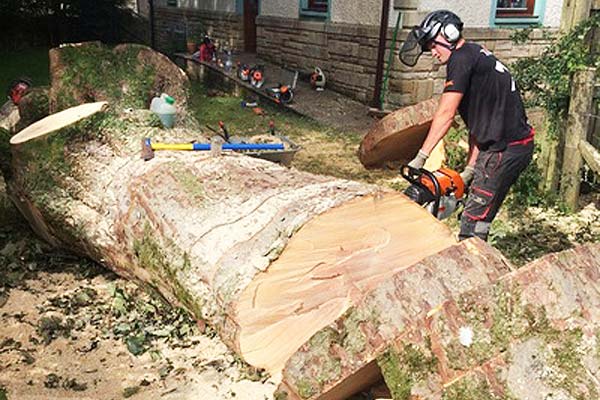 Having a great day in Arrochar slicing up a huge newly felled Sycamore tree with a chainsaw.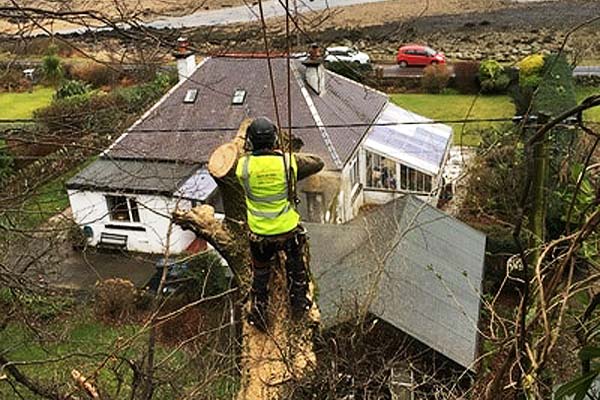 We love being on the road and this project took us to the enchanting island of Arran to do some tree work for a lovely client.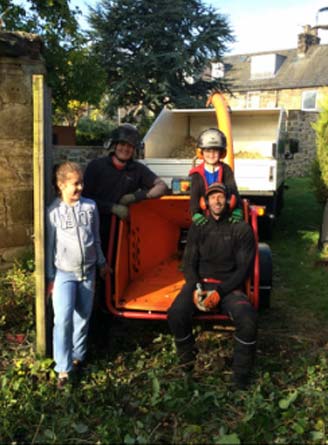 If you need your Tree Pruned or Shaped then you can rely on our team of Tree Surgeons to get the job done!